An Immersive Play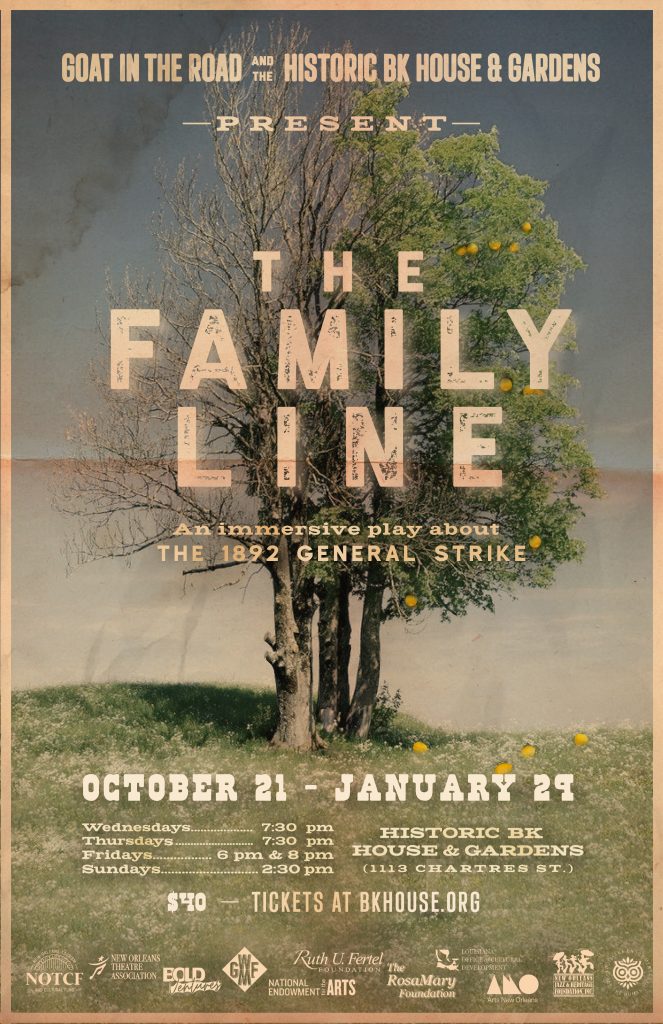 Goat in the Road and The Historic BK House & Gardens present a new immersive play set in the BK House.

The Family Line
Oct. 21 – Jan. 29
Wednesdays & Thursdays at 7:30 pm
Fridays at 6:00 pm & 8:00 pm
Sundays at 2:30 pm
At BK House (1113 Chartres St.)
Tickets are $40
Frequently Asked Questions
The show is an immersive, original performance inspired by the history of the house and the 1892 General Strike, a successful interracial organizing event that shut down the city for days before winning workers' historic rights.
During the show, audience members will be able to explore the historic property, following the characters and storylines they choose. The production will take place in the historic courtyard and surrounding buildings, making it accessible to all. More show info here.
The Family Line was created by the ensemble and producing team.
The producing team is Owen Ever, Shannon Flaherty, Helen Jaksch, Chris Kaminstein, April Louise, and Richon May.
Ensemble (bolded are current performers): Joel Derby, Ian Hoch, Dylan Hunter, Jordan Joseph, Grace Kennedy, April Louise, Alexandria Miles, Keyara Milliner, KC Simms, Lisa Moraschi Shattuck, and Constance Thompson.
Directed by Chris Kaminstein and Richon May
Production managed by Shannon Flaherty
Stage management by Pamela Roberts, Kit Sternberger, and Grace Graugnard
Dramaturgy by Helen Jaksch
Set by Cassandra Erb
Costumes by Ellen Bull
Lights by Mandi Wood
Set Decoration by Angeli Earley
Hair and stitching by Erin Routh
The Historic BK House & Gardens is a National Historic Landmark built in 1826 and restored to its present condition by renowned author Frances Parkinson Keyes beginning in 1948. An outstanding example of the raised cottage, it was designed by François Correjolles, who incorporated both Creole and American features in a well-detailed residence that remains largely in original condition. As the only example of its type open to the public, the museum offers a unique educational experience to visitors and furthers the understanding of New Orleans history.

The Family Line is made possible by the New Orleans Theatre Association, as well as a BOLD Ventures grant, a Helen Gurley Brown Foundation initiative, and by the New Orleans Tourism and Cultural Fund, and a Community Partnership Grant from the Jazz & Heritage Foundation. It is supported by the Sherri Marina Memorial Grant, the Harper Family Foundation, the McIlhenny Foundation and the Louisiana Endowment for the Humanities, as well as by a grant from the Louisiana Division of the Arts, Office of Cultural Development, Department of Culture, Recreation and Tourism, in cooperation with the Louisiana State Arts Council, as administered by the Arts Council of New Orleans. Funding has also been provided by the National Endowment for the Arts.s Council, as administered by the Arts Council of New Orleans.